If you have sensitive skin or have looked for baby skin care products you may be familiar with calendula. It is becoming more and more commercially abundent especially for use on tender skin. There is plentiful research to validate the benefits of this impressivly pretty flowers extraction being used on rashes, burns, wounds, and even in healing skin after radiation treatment for individuals recovering from cancer treatment burns.
I personally love how beautiful putting flower extract on my skin makes me feel. In the middle of winter, the bottle of oil on my bathroom counter is a cheery reflection of the bright yellows and oranges of this medicinal flower.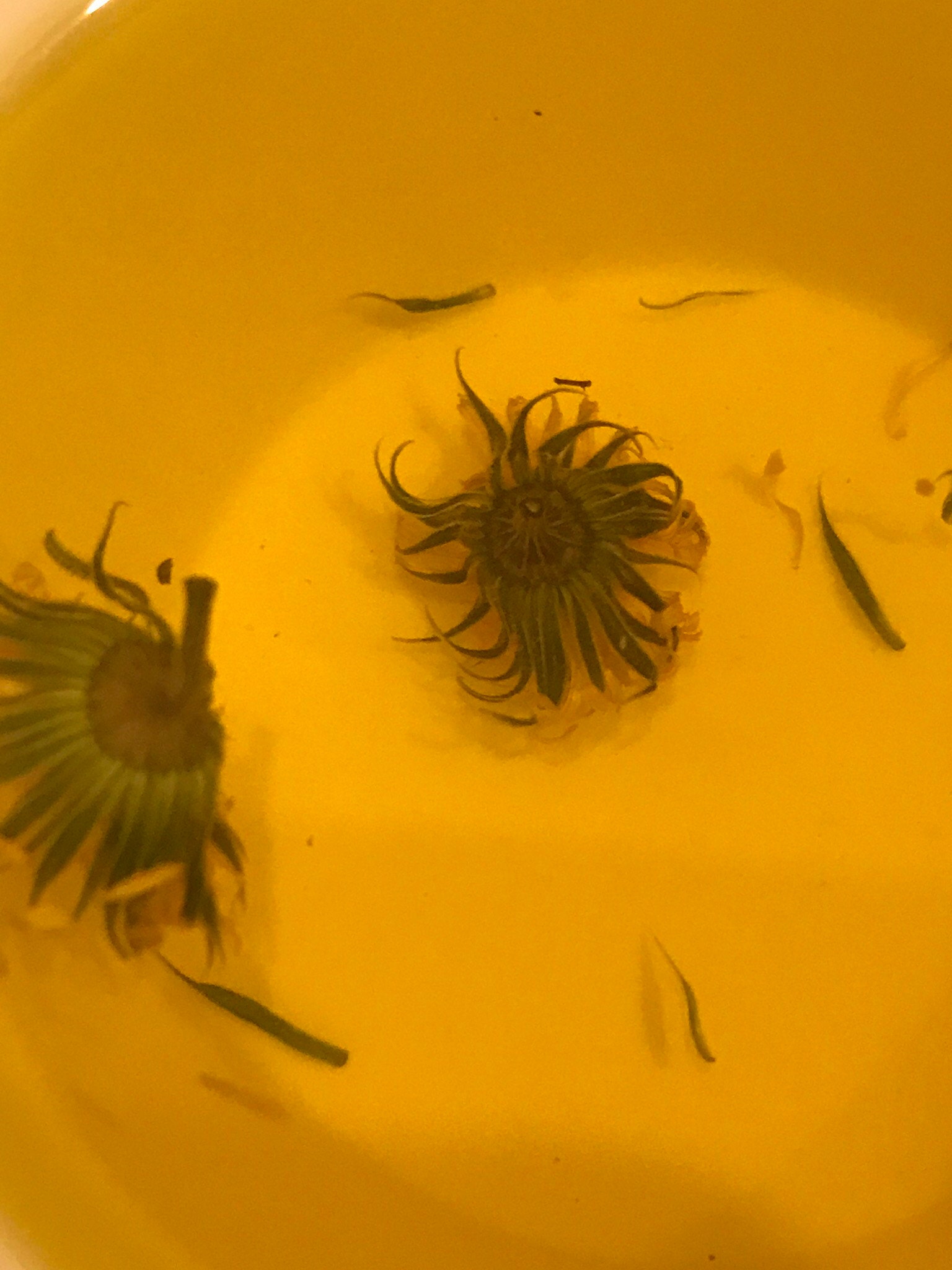 So here we go with a huge bunch of information about skin benefits that come from Healthline.com
So Anyway! I don't like posting things not connected to a ton of research. It is incredibly easy to get lots of information about calendula,but I don't want to direct you to anything that doesn't aid you in further study or is a meme. 
I love growing these beautiful flowers.  I make oil from them which I sell, and I also use calendula oil in all my skincare products for Bluff Babe. I know that it is a skin helper and it is an incredibly efficient way to recover damage, prevent more damage, and heal all manner of mild to moderate skin irritations.
What I often use for hands, elbows, and damaged skin is Calendula Cream. When I have a wound, I use cream or oil in addition to an antibacterial cream to help the skin recover and to help with the irritation and itching that healing scratch or cut can create. I have truly found it to be a useful diaper rash healer.
Calendula oil is also a large part of my recipe for my Lavender Peppermint Balm. It is a creamy lotion with coconut oil that is an ideal head to toe daily skin cream. If you use coconut oil for everything and love lavender then this was made for you. Bluff Babe is really fond of this stuff.
We use calendula everyday, I add the oil to the liquid and solid soap I make and alway get wonderful feedback. Glycerin soap is pretty but it can be drying in my opinion. Adding the calendula oil makes a soap that leaves your skin softer, and it is done with beautiful flowers. 
Theres also lots of previous posts on this blog about calendula to check out.